Columbia.com - Columbia Sportswear for outdoor apparel, footwear & more
Columbia Sportswear
Columbia Sportswear Company™, founded in 1938 as a small family-owned hat distributorship, is now one of the world's largest outerwear companies. Columbia's product line includes jackets, shoes, boots, accessories, and a wide range of rugged outdoor clothing.
Columbia specializes in outdoor clothing for extreme conditions, featuring ultraviolet-protective fabrics, waterproof jackets and pants, moisture-wicking running apparel, shells, and cold weather gear of all kinds.
In addition to the flagship Columbia Sportswear® brand, Columbia also designs, develops, markets and distributes active outdoor apparel, footwear and related accessories and equipment under the Mountain Hardwear®, Sorel®, Montrail®, and Pacific Trail® brands.
Columbia Groups its products in 6 Catagories
Winter - Snowboarding, Snowshoeing, Skiing, Mountaineering
Water - Upland, Waterfowl, Big Game
Trail - Trail Running, Climbing, Hiking/Trekking, Mountain Biking
Travel - Cycling,Camping Gear
Fishing - Freshwater, Deep-sea, Flats
Golf - Golf Apparel and Products.
History
1938
Columbia Hat Company established
1960
Gert Boyle designs first fishing vest
Columbia Hat Company becomes Columbia Sportswear Company
1970
Gert Boyle, a housewife, takes over the company
1975
Columbia first to introduce Gore-Tex® parka
Company goes international
1982
The Columbia Interchange System® is introduced in the Quad™ Parka
1984
The Mother of all ad campaigns begins
Youth line introduced
1985
Sportswear line introduced
1986
First Bugaboo™ Parka revolutionizes how downhill skiers dress
1990
First national television ad, "Car Wash"
1991
Omni-Tech®: Columbia's proprietary waterproof-breathable technology developed
1993
1994
Convert and Titanium lines introduced
Lillehammer Winter Olympics Games: Official supplier to CBS Sports
Rivergate Distribution Center opens
1995
GRT: Gear for Rugged Trekking and Travel line introduced
America's Cup: Official sponsor to America3
1996
Columbia Comfort System introduced
PFG (Performance Fishing Gear) introduced
Flagship store opens in downtown Portland
1997
Omni Dry®: High-performance moisture management technology developed
Special Olympics: Official supplier to Team USA
1998
Company goes public
Sydney Summer Olympic Games: Official supplier to NBC Sports
2000
2002
Salt Lake City Winter Olympic Games: Official supplier to NBC Sports
Eco-Challenge official provider 1996-2002

2003
Cambrai, France, Distribution Center opens
5+ million visitors to website

2004
4 Star Distribution Center opens
Columbia acquires Mountain Hardwear
Company reaches $1 billion dollars in annual sales
2005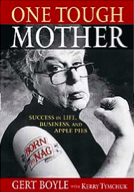 Gert's autobiography, One Tough Mother, is released
X Games official supplier 2002–2005
2006
2008
Omni-Shade® Columbia's proprietary sun protection technology developed
Columbia celebrates its 70th anniversary
Official Sponsor of Team Columbia, former team High Road
2009
Columbia launches e-commerce site
Titanium golf line introduced
2010
Investor Relations
Contact
Columbia Sportswear Company
(800) MA BOYLE
(800) 622-6953
: [}}} GetSatisfaction]
Address
14375 NW Science Park Drive
Portland, Oregon 97229
U.S.A.
Languages
English, Korean, Norwegian, Japanese, Greek, Czech, Russian
Related Domains
External Links