ClanMacTavish.org Clan (Thompson) MacTavish is an Ancient Scottish Highland Clan
Clan MacTavish
Clan MacTavish is an ancient Scottish Highland Clan with origins in the period known as the high middle ages.
Clan MacTavish history
has roots tracing back to the early royal families of Ireland and the
Dal Riada
settlements in the Pictish world, which later became known as the Coastal Highlands of Western Scotland. The MacTavish families and septs share a rich heritage documented in the
early history of Scottish Clans
, land holdings, and migrations. The name MacTavish stems from Taus Coir, (Tammis) a son born to Gillespic and a daughter of Sween the Red, Lord and Toisech (meaning leader, Chief) of Castle Sween and of Knapdale, in the last half of the 11th century.
"

Non oblitus - "Not forgotten"

"

—ClanMacTavish.org
Clan MacTavish was brought out of a 200-year dormancy through the matriculation of the late Chief Dugald MacTavish of Dunardry in 1997 by the Court of Lord Lyon. His son,
Steven Edward Dugald MacTavish of Dunardry
is the current Chief of Clan MacTavish, and a member of the
Standing Council of Scottish Chiefs
.
The Arms of MacTavish of Dunardry
---
"Since his matriculation in 1997, Chief Dugald MacTavish of Dunardry has not been satisfied with merely bringing back an ancient clan and chiefship, but with correcting a long standing injustice to the Clan MacTavish itself. Ironically, a subject long overlooked is addressed in the annuls of the Craignish Campbells, wherein it is anciently affirmed that the Clan MacTavish were independent, describing them as having repudiated any dependency on the Argyll Campbells.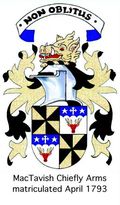 Additionally, a newly found work by an historian for the Braemar Royal Highland Gathering, shows that
MacTavish is one of 69 original Highland Clans
, which makes clear the distinction. The correct placement of Ensigns armorial now serves the MacTavish by lifting the shadow of the Argyll Campbells. With the affirmation of Lord Lyon, the ancient Clan Tavish of Dunardarie steps forward in vindication with new arms, and into a bright future; its once forgotten history of much interest to Scots the world over."
Read More about the granting of arms for MacTavish Chief
Clan MacTavish [Thom(p)son] Scottish Family Names
---
MacTamhais > MacTavish > Thom(p)son
Gaelic > Anglicized > Englished
MacTavish is Thompson

MacTavish families, septs, and associated names: Cash, Kash, MacCamish, MacCash, MacCavish, MacComb, MacCombie, MacComich, MacComish, MaComie, Macomie, MacCosh, MacLaws, MacElhose, MacLehose, MacTavish, McTavish, Mactavish, Mactavis, M'Tavish, MacTeague, MacThomas, Stephens, Stephenson, Stevens, Stevenson, Tavish, Tawesson, Teague, Thom, Thomas, Thomason, Thomasson, Thompson, Thomson, Tod, and Todd, and all variant spelling
Clan MacTavish Tartans
---
There are several official Clan MacTavish Tartans. Additionally some family surnames or septs, like Stephenson, may have official tartans. Here is a link to Clan MacTavish Tartans information from the official MacTavish Clan seannachie.

Clan MacTavish Sept - Stephenson Tartan
Stephenson Tartan
- Stephenson and/or Stevenson is a family surname or sept of Clan MacTavish.
Clan MacTavish Social Media and Forum
---
Clan MacTavish News and External Links
---
"MacTavish Is Here" Scottish Games Glasgow, KY 2011
Related Domains
---