User:Avidsoccer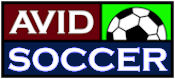 AVID Soccer and the AVID Soccer Equipment Review
Overview
AVIDSoccer.com is the home of Antelope Valley Instructional Development. Our intent is to provide a central point for soccer information in Palmdale, Lancaster, Quartz Hill and all of Southern California. We provide soccer training and conditioning services to players of all ages and teams of all development levels.
We offer programs targeted at Goal Keeping, player development, ball control, team tactics and soccer psychology. We hope that this site will provide information about the AV soccer universe including the CalSouth clubs, AYSO, and Palmdale Youth Soccer. Over time, the site will evolve and expand.
AVID Soccer Web
AVID Soccer is a grass roots organization that provides information and training to individual players, groups and teams. AVID Soccer consists of coaches and trainers dedicated to improving the image of soccer; the level of training; and the level of play.
The website evolved from a simple billboard for our trainers into a central location for information on soccer. We have added articles from local players, trainers, coaches and parents. The articles are grouped into general information, select equipment reviews from the blog, and coaching support. Aspiring authors are encouaged to submit articles to the [
Editor]
In addition to the articles, we maintain a recruiting/alumni page for players who have moved on to College. We hope to expand this section significantly. The site also contains the information on the submitting products for review, special programs, and the typical links.
AVID Soccer Equipment Review
The AVID Soccer Equipment blog provides objective testing services, reviews and information on soccer equipment and related products. We currently have over 20 testers ranging from U-9 players through semi-pro.
The blog covers the following categories:
Goalkeeper gloves and kit
Training and coaching equipment
General information, books, awards, etc
The AVID Soccer Equipment Review web log was founded in March 2006. In the first year, the blog met some significant milestones:
Over 200 entries
Over 70,000 words
Over 200,000 visitors
In 2007 we are adding Shoot-out style head to head comparisons to our regular reviews and the annual AVID Soccer Awards.