TimeCircles.Co.uk creates traditional natural stone features for the garden
Looking back into the mists of time
Time Circles creates natural stone monuments for gardens and landscapes that hark back to the stone creations of the earliest European civilisations.
The company believes that its rugged and powerful stone features - all made from specially sourced and unusual stone types - can provide a steady counterpoint to the frenetic pace of modern life while at the same time creating stunning garden and landscape focal points.
Feature stones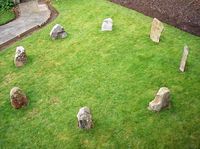 Central to Time Circle's business and philosophy are large stones that make a dramatic focus in any garden or space.
Examples vary hugely in size and style - from mysterious garden monoliths to intriguing holed stones to large and exciting stone garden circles, often - as in the photo right - using Preseli Bluestone and Sarsen stone, the same stones used to create the famous ancient monoment at Stonehenge.
Engraved stones
Time Circles also specialises in natural stone carved with traditional methods to create wonderful personalised memorials, unique hand-carved headstones and mysterious Symbol Stones engraved with Celtic and other ancient designs.
Small carved stones for interiors are another type of engraved stone supplied by Time Circles. Numbers of these are usually kept in stock.
Stone types
Time Circles only uses high quality and beautiful stone. Cornish glacial granite is often used. It is ancient so tends to have interesting patterns and moss growth as well as rounded edges for safe climbing (see Natural Play below). Also used are the two stones used for the celebrated stone circle at Stonehenge: Preseli Bluestone - yellowish on the outside and a beautiful sky blue when carved; and Sarsen stone with irregular shaped boulders because it is so hard that make a powerful and mysterious impression. Sandstone and quarried granite are the other stones most commonly used by Time Circles.
Natural play
The latest addition in Time Circles's product range is creating stones for natural play.
Natural play equipment can stimulate imaginary and active play. Examples include: recumbent boulders for sitting or hopping on; tall or wide holed stones which become exciting play elements for children; and carved boulders with lettering or symbols to create an atmosphere or a sense of place.
Contact
Tel: +44 (0)7818 403247