Iterasi.net tracks and archives the Web pages that are important to you
Iterasi.net
"Every day you find web pages you may never see again.
Which is fine, unless you actually need that information.
Bookmarks don't cut it. They lead you to where that information was — but not the information itself. With iterasi, you can save any web page and return to it anytime, from anywhere, forever."
Today's internet users depend upon their browser's bookmark feature to capture web pages from the internet for future use. All too often though, due to the browser's inability to capture the page in its original state, important functionality is lost due to changing content, complex URL's or simply because the website is down. Even saving bank or purchase transactions has been difficult to accomplish as they depend on server side functionality to work.
Iterasi.net presents a solution to this problem! Complete web pages, including full functionality, can be saved effortlessly through a unique and seamless process. Iterasi.net provides users the ability to search by pages, tags, users, or websites and capture these pages for as long as they wish to retain them.
"Instead of the Delicious approach of simply bookmarking a URL and some descriptive data, iterasi lets users create a Wayback Machine like copy of the webpage, including with dynamic alterations from being signed in, cookies, etc."Michael Arrington
What Works
Iterasi.net saves any web page exactly the way it should be saved, down to the finest detail, including:
Css
Javascript
Ajax
Xhtml
...and Database driven sites that include PHP, ASP and more!
How to Utilize Iterasi
Visitors can easily access the full dynamics of every webpage complete with links and information, quickly creating their own personal, unique, and dynamic "time machine." They can save their favorite pages directly to their own secure iterasi.net account, allowing them to share the pages with others or retain for personal use. Iterasi.net offers visitors two highly intuitive ways to save any web page completely, including:
No-install Bookmarklets: By using the browser's bookmarklet, one click captures any web page that is publicly viewable and saves it to archive in fully functional HTML format. This is the ideal solution for saving web pages quickly and on the fly. By dragging the bookmarklet to the browser's bookmark bar, visitors have easy, one-step access to pages saved securely on their iterasi account.
Browser Extension: For a more powerful solution, the browser-based extension easily captures webpages and retains them, even if a login was initially required to view them. This is an ideal solution for saving online purchase receipts, banking transactions, or custom web applications such as Google Maps. With one click on the web browser's toolbar, any web page is saved directly to the person's iterasi account.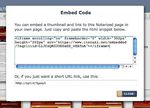 When visitors want to view saved pages, they need to simply click on the iterasi toolbar or drag the View iterasi bookmarklet in the browser window; this grants instant access to their account, and from there they can quickly view every saved page.
Keeping it Fresh
The iterasi browser extension also includes a time saving feature to conveniently schedule and save web pages on a regular basis without the need to continually revisit the website. By adding a preferred URL and setting its refresh frequency, the iterasi browser extension can automatically monitor a webpage and periodically update the information it contains, creating an effortless way to keep up-to-the-minute content.
How it Began
With over 20 years experience in the high technology sector, Pete Grillo, CEO, realized web users needed to harness the vast richness of the internet in an unrestricted, timeless page-by-page format. In May 2007, Iterasi.net began providing the simple solution that today allows visitors to save their favorite pages within an accessible, collective, collaborative archive.
The Iterasi.net team of professionals are dedicated to ensuring every Internet user's valuable time and energy, and continues to provide them with the ability to access necessary web page content when and where they need it.
Location
Portland, OR
Contact
External Links
Influence Us
Saad Saeed (delighted) : Iterasi.net is Web 2.0 applied to Archive.org. I'd like to see the ability to save pages as PDF or .mht without losing formatting.

Mon Feb 09 09:39:06 UTC 2009