Beseen.be
Title
The total solution for your Search Marketing
Description
Excerpted from the DMOZ:
Do you want more visitors to your website? More action? A better return? bSeen helps you and turns your site into a powerfull online marketing tool.
Languages
Nederlands (Dutch) Frans (Français ) Engels (English)
Contact

Logos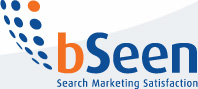 Additional Information
bSeen's professional search engine optimisation gives you higher scores.
[SEO], SEA and SEM services: search engine optimisation, search engine advertising and search engine marketing.
And also web copywriting, web analytics and usability offer substantial added value. That's the way to get the results you want: higher awareness, better branding, ... and most of all: the best possible conversation rates for your leads.
Related Domains
External Links
Domain Resolution
This domain resolves to the following IP addresses: