War-Online.org
Title
Win Animal Rights - Home WAR-Online.org
Description
Win Animal Rights or W.A.R. is a national non-profit organization dedicated to eliminating the exploitation and suffering of animals, while promoting and defending, what we believe to be, their inherent rights. We believe that all animals, human and non-human have the intrinsic right to live free of abuse and exploitation. We also believe that non-human animals have just as much right to be themselves and live their own lives as human animals do. As such, we believe that any animal, whose rights are subjugated to human self interest and greed, is worthy of our fullest attention and efforts to restore that animal's freedom and self direction.
We vow that in this age of governmental repression and harassment of dissidents, we will remain firm and steadfastly defend our rights to exercise our civil liberties to speak up for those who cannot speak for themselves and to defend and liberate those that are unjustly enslaved.
In view of the aforementioned tenets, W.A.R. is devoted to the campaign to bring about the demise of the killing at Huntingdon Life Sciences, a notorious international animal testing laboratory, responsible for the torture, mutilation and death of 500 animals every day. We believe in using every legal tool, tactic or strategy available to us to bring about this closure. We are resolved to continue this fight until Huntingdon Life Sciences is closed or until the killing there stops, once and for all.
Logos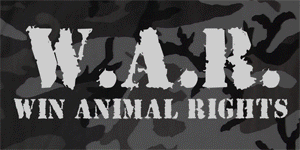 Additional Information
External Links