ShrinkTheWeb.com is a free website thumbail provider.
A service that creates screenshots of other websites.
About ShrinkTheWeb.com
ShrinkTheWeb.com
(STW) is the most powerful, free website thumbnail provider on the internet. They specialize in allowing your web page to capture images of any website's front page, homepage, or subdomain. Specific pages can be captured using a PRO feature (
Upgrades
). The idea is simple and effective, you give ShrinkTheWeb.com a URL and they are able to generate a thumbnail image of that web page. You can embed, download, and use these images anywhere to reference your website visually. Moreover, this service also supports various ways to integrate
screenshot plug-ins
, including a non ad-supported preview bubble, to enhance this highly effective webmaster tool.
When you open an account with ShrinkTheWeb, you get access to a customizable widget that dynamically generates thumbnails automatically. The free service is ideal for the vast majority of webmasters, but for those who require more, ShrinkTheWeb offers additional serices. PRO Users can get custom-size images, full-length pages, specific page captures, custom delays, cropping options, custom system messages, and even MORE! See this page for a comparison of both the free and PRO Features.
Benefits of using ShrinkTheWeb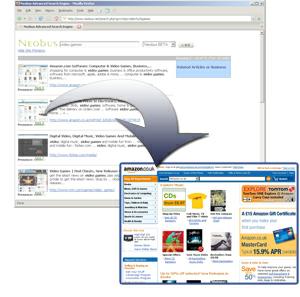 Improve Search Accuracy: By displaying an image of your website coupled with your URL you stand a better chance of associating the look of website with the keywords in your URL.
Recall Previously Visited Sites: Help visitors remember which websites they visited by giving them a way to see your website.
Filter Offensive Sites: Steer clear of adult websites by spotting them before opening the site.
Filter Foreign Sites: See foreign text before visiting the site.
Discover Ambiguous Sites: Easily distinguish between two websites of similar sounding names.
Find Inspirational and Beautiful Designs: Quickly glance through galleries of websites like www.shrunktheweb.com and spot catchy designs. Also great for showcasing your own designs!
Filter Duplicates or Related Sites: See duplicate websites and/or identify sites with common content or layout.
Filter Parked or Broken Sites: Spot parked pages or broken websites before wasting your time.
Visit learn.shrinktheweb.com to read more on uses of STW.
STW Thumbnail Samples
These free samples, that STW generated, are available in the following default sizes:
75×56
90×68
100×75
120×90
200×150
320×240
Regardless of the size, ShrinkTheWeb.com's thumbnail images are of the highest quality and accurately depict the requested website. At any given time, people may be using ShrinkTheWeb to generate thumbnails for their website(s). This means all requested thumbnails are queued and handled on a first come first serve basis, ensuring fair and equal opportunities for all their customers. STW provides priority services available by request for its upgraded users. During our tests, the website thumbnail for AboutUs was quickly generated.
About the Founder
ShrinkTheWeb.com was founded by Brandon Elliott of Neosys Consulting to provide a much needed service for webmasters. Brandon is a CISSP, MCSE, CCNA, MCP+I, A+, and has been in the IT industry for over a decade.
He runs STW as a dedicated service and contributes quite a bit of resources at the back-end to keep this service free, reliable, fast and secure. He is open and honest about the challenges that he faces offering this service for free, however, he explains his reasoning and logic clearly to his audience.
Customer Testimonials
Contact
Web: Webform
Tel: +1-888-763-6797
Languages
Present: English, German, Spanish, French, Russian

Additional Information
Related Domains
What Others Are Saying
Technorati Blog - "Great solution for website thumbnails / previews"
MakeUseOf - "ShrinkTheWeb: Automatically Creates Web Screenshot Thumbnails"
Stackoverflow - "Which third party website thumbnailing services do you use?"
PaperMashUp - "Using web thumbs to enhance user experience"
Orangeinks - "ShrinkTheWeb: Get Dynamic Screen Shot Thumbnails"
External Links
Influence Us
Add your constructive feedback or review for ShrinkTheWeb.com
Saad Saeed (delighted) : I and a couple of other wiki editors at AboutUs now use STW whenever we need to add a custom thumbnail to a page. Its our quick fix solution to show a custom current domain thumbnail. For improvement, it would be great if STW can allow hardlinking to thumbnails and allow periodic updates to thumbnails without one having to redownload a fresh thumbnail.

Wed Feb 25 10:12:26 UTC 2009