ShoeMania.com a physical and online shoe store based in New York.
Manhattan's Biggest Shoe Store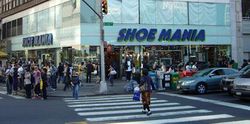 [
http://shoemania.com
ShoeMania.com is the online store for ShoeMania, Manhattan's biggest source for the top brands in men's and women's shoes and bags.
ShoeMania.com offers a wide variety of ladies' and men's athletic, comfort, outdoor and fashion shoes. Choose from classic favorites and browse the latest trends. The company continually adds to its brand-name inventory. Use ShoeMania.com's search function to find the right shoe for you. If you don't see what you are looking for, tell the buyers! Drop them a line at
, and they'll find the shoes you want.
ShoeMania.com is well-organized, with inventory sorted by shoe type, such as athletic, casual or comfort shoes.
ShoeMania.com is committed to insuring you have an excellent shopping experience. So go ahead and call the company toll-free at 1-866-GO MANIA to ask any questions, or email
. ShoeMania's customer-focused staff will answer your questions with honesty, and hope you'll give them the chance to rush your shoes to your doorstep.
More than 150 top shoe brands
ShoeMania.com offers free shipping on more than 150 top designer and discount brands, including:
The following are currently among Shoe Mania's best selling shoes:
Buying Shoes from ShoeMania.com
ShoeMania.com is a convenient and safe way to purchase shoes online. The website employs state-of-the-art SSL technology to transfer your personal information into an encrypted format. Along with keeping your personal information perfectly safe, ShoeMania will only make shipments to your credit card's billing address, removing any possibilities of credit card fraud.
Shoe Mania insists that you will find the best deals at through their website. If a customer is able to find a lower online price for the shoe purchased, that customer will be refunded 110% of the difference in price. And along with their incredible prices, out-of-state (New York) customers will pay no sales tax.
The website accepts PayPal, Mastercard, Visa, Discover, American Express, and Google Checkout.
Locations
Shoe Mania has five locations within Manhattan and their flagship store in Union Square is the largest shoe store in New York City.
853 Broadway and 14th Street (@ Union Square) New York, NY 10003
30 East 14th Street (between University & 5th Avenue) New York, NY 10003
654 Broadway (between Bond & bleeker) New York, NY 10003
331 Madison Avenue (between 42nd & 43rd Streets) New York, NY 10017
11 West 34th Street (between 5th & 6th Avenue) New York, NY 10001
Contact
1-866-GOMANIA
+1-212-529-0386
Related Domains