Sandia.gov
Title
Sandia National Laboratories
Description
ABOUT
Since 1949, Sandia National Laboratories has developed technological solutions to support our national security and to counter national and global threats.
reducing the proliferation of weapons of mass destruction, the threat of nuclear accidents, and the potential for damage to the environment
Sandia is a government-owned/contractor operated (GOCO) facility. Lockheed Martin manages Sandia for the U.S. Department of Energy's National Nuclear Security Administration. We seek collaborative partnerships on emerging technologies that support our mission.
Logos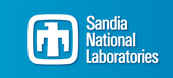 Additional Information
Related Domains
External Links