Raiffeisen-Kosovo.com
Title
Raiffeisen Bank Kosovo J.S.C.
Description
Excerpted from the website:
According to the Balance Sheet as at 31 December 2007, total assets of Raiffeisen Bank Kosovo marked a significant increase from €376 million to €477 million, which is more than 27% increase in one year. The lending balances increased from €230 million to €342 million (which is nearly 49% increase from 2006). On the other hand, total customers' deposits grew by 27.6% to €396 million. The year 2007 was the most successful year of Raiffeisen Bank Kosovo in terms of profit achievement. Raiffeisen Bank ended the year with capital of €44 million, making it the best capitalised bank in Kosovo.
Languages
English
Contact

Logos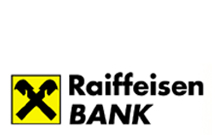 Additional Information
Related Domains
External Links