Myenki.com
Title
Home | Enki - Grow Stronger, Healthier Plants
Description
Excerpted from the website:
Enhancing plant growth... naturally.
The idea seems elegantly simple. Water and oxygen are critical to successful plant growth. And, by developing a way to expose a plant's root system to more oxygen through the watering process, this actively growing root system will improve a plant's health and yield will improve.
Logos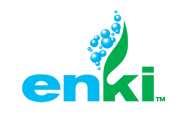 Additional Information
Related Domains
External Links