Ebang.com Place to find and sell guns and have gun deals & auctions
Title
Ebang Gun Auction!
Description
Many more services are available to Ebang Members in the Ebang Member's Area. Registration at Ebang is 100% FREE! Click here to create your free Ebang Membership now!
About Us
Ebang, LLC, is a company that facilitates the online auctioning of firearms and similar sporting goods among individuals throughout the United States, and other areas where such activity is legal. None of the items found in the online auctions at Ebang are the property, or are sold by, Ebang itself. Therefore, Ebang provides no guarantee or warrantee on the products for sale here.
Ebang is headquartered in John Day, Oregon-- a small town in rural Eastern Oregon. It's owned by four individuals in the Eastern Oregon area.
Languages
English
Logos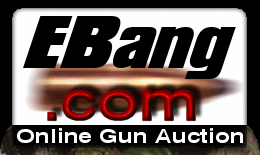 Additional Information
Related Domains
External Links