877Truth99.com offers private investigation services in the California market
877-TRUTH-99 California Private Investigators
Private Investigation License number Ca pib 5328


See our featured ad on 411Law.com


877Truth99.com has been providing professional services to large and small businesses, law firms, insurance companies and private citizens for over 18 years.
Staffed by seasoned professional process services and investigators, we're trained to deal with all aspects of process serving, on-site document reproduction and investigations. Every member of our firm has passed an extensive criminal background investigation, ensuring us and our clients that agents bearing our company patch are qualified and reliable.
We utilize sophisticated investigative techniques, and incorporate the latest technology. This coupled with our agency's tried-and-true, street-smart investigative experience, provides our clients with the best possible services. Our staff excels in solving problems involving complex issues. No matter what your need, you will find us knowledgeable, skilled and professional.
Our company and staff is proud to be affiliated with professional organizations in our industry, including, the California Association of Licensed Investigators, the California Association of Process Servers, and the National Association of Process Servers, just a name a few.
We have the experience, training, and "know how" to design and implement specialized services to meet your specific needs.
All searches are accomplished in full compliance with current financial privacy legislation, including the new Gramm-Leach-Bliley Act (Senate 5.900), which became law in November, 1999.
This legislation was designed to help prevent serious financial crimes, such as "identify theft." Unfortunately, the far-reaching restrictions of these new laws will likely result in making it more difficult for legitimate creditors to collect judgments and other lawful financial obligations. While we support the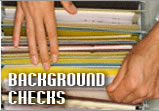 laws' intentions of introducing sanctions in cases of "identity theft," we feel that debtors and financial "deadbeats" could well benefit from this new litigation. However, our clients can rest assured that every one of our searches are conducted in compliance with these laws, and that we will continue to monitor any new legislation to ensure that our search products continue to conform with applicable federal and state laws.
Many of our searches are conducted through specialized databases, which are carefully controlled and restricted to those in the investigative trade. These databases, some of which contain billions of records, are assembled from legally-obtained public record information. These databases provide the investigator and asset researcher with powerful tools that, quite simply, cannot be found in other publicly-accessible information sources, such as those found on the Internet. These databases provide enhanced search capabilities, often screening and merging millions of records, and provide a comprehensive profile on the search subject that could not be developed, on a cost-effective basis, through any other means. Public record information found in these databases include real estate ownership, mortgages, lawsuits, judgments, tax liens, bankruptcies, vehicle ownership, driving history, criminal history, business affiliations, corporate status, fictitious business names, present and previous addresses, watercraft ownership, aircraft ownership, major stock ownership, etc. Some of the databases to which we subscribe provide us with dozens of searches, which are made possible by the careful collection, screening, and cross-matching of legal public record information.
Searches we can do:
Assets - Basic
Assets - Extensive
Specific Requests
Asset Liability - Basic
Asset Liability - Extensive
Asset /Locate - Subrogation
Background Investigation
Criminal Background Checks
Nanny Background Check
Business Background Check
Employee Background Check
Due Diligence - Locate
Locate - Skip Trace - Basic
Locate - Skip Trace - Extensive
Pre-Employment Background Checks
Public Record Retrieval
Services we can provide:
Process Service/Messenger Service
California Subpoena Service
Mobile Document Photocopy
Insurance Claim Investigations
Surveillance - Activity Checks
Marital and Domestic Surveillance
Undercover Operations
Photography - Videography
Statements and Interviews
International Investigations
Hearing Representatives
Property Inspections
Trademark Protection
Electronic Debugging
Event Security
Executive Protection
Security Audits, Consulting and Surveys
Security - Industrial, Commercial, Residential
Contact
16787 Beach Boulevard #340
Huntington Beach, CA 92647

Hours of operation: Monday - Sunday - 7:30am - 10:00pm
Toll Free 877.Truth99 (877.878.8499)
LOCAL Phone: (714) 546-7373
FAX: (714) 546-7474

email:
Related Domains
External Links

Orange]]
Domain Resolution
This domain resolves to the following IP addresses: